Adams Well Drilling is proud to be a family-owned and operated business, and has served Howell and surrounding communities since 1969. The company has now been in the family for three generations and continues the tradition of excellence established by Leo almost 50 years ago.
Our History
Leo worked his whole life in Livingston County. He had built a solid reputation as a trusted and respected handyman, builder, and excavator.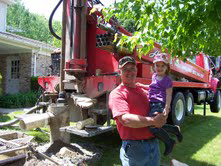 So when local well expert Fred Stienacker saw a need in the community for another well driller, he turned to Leo. Leo, along with his two sons Mark and Dan, launched Leo Adams Well Drilling.
In February of 1986, Leo retired. Mark, Dan, and their wives joined together to form Adams Well Drilling. After buying their first rotary rig, the business soon tripled in size.
Sadly, Dan Adams passed away in 1995, and was followed shortly after by his father. But the Adams legacy lives on.
Today, Mark, Karen, and Debi Adams can be found in the office most days. Leo's four grandsons (Greg, Ryan, Brody, and Brian) are also an integral part of the work force, along with their valued employees.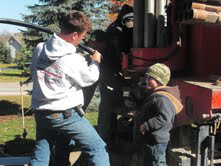 A fourth generation of Adams are now growing up in the community. Brody's son, who is now 13, is starting to come into the shop to help out and learn more about the business. We are proud of our heritage, and will continue to uphold strong family values that will help us to serve you and your family for many more years to come.